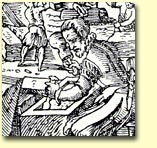 A 16th century mason's yard showing skilled and manual worker
The East India Company started in 1600 with £68,373, which is a huge amount of money, especially for those days.
A stonemason or a carpenter of the time would earn just 7d. (seven pence) for a day's work. It would have taken a 100 stonemasons 64 years, working every day, to earn £68,373 between them.
How much do you think it would cost today to buy ships and cargo and sail to the other side of the world?